Pssst!

This is *actual gay comedy* with actual gay (and they're REALLLY GAY) comedians, folks. You heard right. Actual gays! Doing THREE WHOLE shows, even!

Translation: this is NOT some sophomoric straight asshole being "ironic" or "edgy" by acting out every single stupid stereotype about gay men and expecting us all to say ha ha ha! I am so AMUSED that a heterosexual dude is playing up all ugly things gay so that he can a) make money and b) make money and c) oh yeah, MAKE MONEY.

Where was I? Oh yeah, money. These shows are bargains, people. Three fantastic queer comedians for awfully damn cheap.

First there's kickass cable TV and Logo Network regular ANT, then the aptly named (and ridiculously cute) Jason Dudey, and my own personal favorite badass dyke comedian Sabrina Matthews. I can personally vouch for her stupidly high stage show laugh-levels, and I'm not just saying that because her Comedy Central tv special was AWESOME (although it did crack me the hell up).

Flyers after the cut. Because I care, people.



COME OUT LAUGHING - The Tour!
SUNDAY, July 19th, at 7 & 9pm
The Comedy Factory
36 Light Street, B'more MD
www.baltimorecomedyfactory.com
Reservations: 410.547.7798
$17, with a portion to benefit GLCCB


COME OUT LAUGHING - The Tour!
WEDNESDAY, July 22 at 9:30
Blue Moon in Rehoboth
35 Baltimore Ave
www.bluemoonrehoboth.com
302.227.6515
$25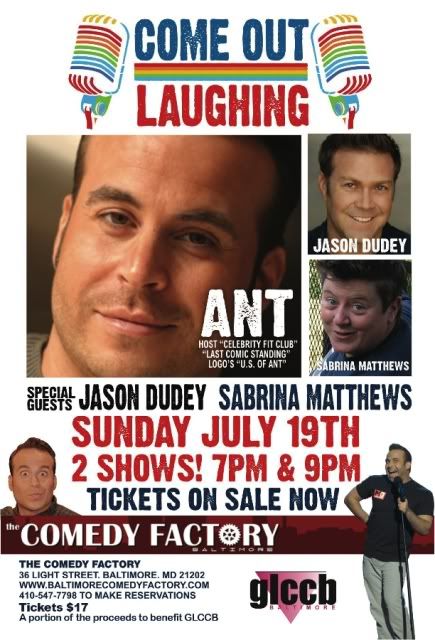 aaaaand....