Slut Night, inspired by the courageous Butch & Femme community nationwide, is a night dedicated to limitless self-expression and decadent sexuality. It is a reclamation, a rejoicing at a venue in which DC's queer women and transfolk can feel free to be the sexiest version of themselves.

Join us for a Phase Fest fundraiser like no other by coming to Slut Night in whatever makes you feel most sexy...cleavage, ties, stilettos, boots, polos, feathers or even just jeans. This is a no-holds-barred event where you can be you and be positively free to engage your personal definition of "slutty."

Hosted by Phase 1 Lounge and brought to you by Lure, Where the girls go & Boi Promotions, Slut Night will feature an all-encompassing opportunity to experience sexy. There will be tantalizing performances, shot specials, and door prizes galore!

Cover $10. You must be 21+ years old to enter Phase 1.

SLUT NIGHT
This Friday!
Phase 1 Lounge
525 8th St. SE
9pm until you're good and done
202.544.6831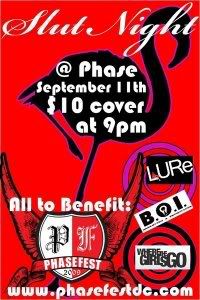 Phase Fest 2009 is the East Coast's largest Queer Music and Arts Festival and will be held September 24-26th, 2009. For more information about the event and Phase Fest, visit www.phasefestdc.com.